About Walraven
Walraven is one of the initiators of the "RAL Quality Assurance Association for pipe supports". Independent and covering all manufacturers the association is made up of the main industrial companies in the field of pipe supports.

RAL quality marks: A promise of quality and perceptible customer benefits
Certainty and savings of time in the planning
Conformity with invitations to tender
Requirements for product quality going beyond the usual market standards
and legal certainty for all those involved in the construction
are the resulting benefits of the RAL quality marks that are awarded by the Gütegemeinschaft Rohrbefestigung e. V. [Quality Assurance Association for pipe supports] solely for products that have been tested in accordance with the RAL-GZ 655/656 quality guidelines with external monitoring.
With the purpose of making the technical values comparable and transparent for users and planners, strict and uniform test guidelines and test procedures were and are being developed and applied.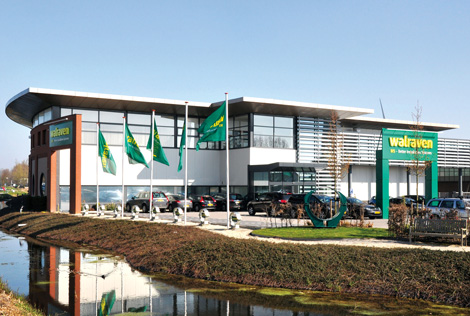 Walraven installs benefits!
The Walraven Group is an international and owner-run company with more than 20 production and sales subsidiaries in many countries in Europe, Asia and the USA. Currently more than 800 employees are working worldwide in the service of our customers and partners.
Holistic value creation from one source
Our core competence lies in the development, manufacture and marketing of high-quality installation products such as pipe and cable fixings and supports and fire barrier systems for building technology. In addition, we develop and produce customer-specific installation systems for plant engineering and industrial construction and also for infrastructure, photovoltaic, shipbuilding and offshore projects.
Uncomplicated installation and functionality in use and the safety of our systems are the main goals of our work in research and development.
We make use of location capabilities in production. Each of our production facilities is a specialist in itself. The very latest manufacturing technologies and machines, optimised and certified processes and tools that we make ourselves contribute to the quality assurance and flexibilisation of our products.
In sales and logistics Walraven works together with a dense network of partners in wholesaling. This means that Walraven products are always in your vicinity and available at the right time. Even long items with a length of six metres are no problem.
With the focus always on customer benefits, Walraven offers "Everything from one source" including the soundly based technical consulting and service capabilities of a technology partner.
What we can offer you – in short:
An extensive and high-quality range of products
Time-saving pre-assembly
Training and seminars in the field of constructional fire protection
Logistics service::

Individually equipped construction site container for major projects
Excellent product availability via wholesalers
Direct deliveries to the construction site by Walraven

• Technical support in complex fixing and fire protection constructions

Solution-oriented joint project definition
Design and calculation of the (fire-tested) fixing technology, including parts lists
Planning support on a CAD basis, including design drawings
Statics verification
Fixpoint calculation

Digital aids

Tender texts in all current formats, constantly updated and available around the clock from www.ausschreiben.de